The goal of Captain Care Intervention is to keep animals out of shelters by keeping pets and their owners together. We are not a rescue and we do not pull any pets from shelters.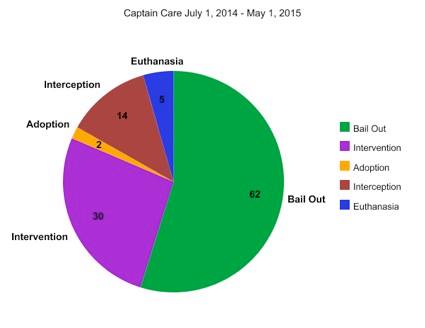 Intervention works by addressing the needs of low-income pet owners. If a dog or cat is picked up as a stray, and the family can't afford to pay the fines to get their pet back home, we help pay the fines and reunite the pet with the family. If a low-income family is surrendering a pet to the shelter for financial reasons, we will pay for pet food and minor vet care to keep the pet at home. For homeless pet owners, we will supply pet food and minor vet care to keep pets with responsible owners, even if homeless, rather than the pets being surrendered to high kill shelters.
We are only able to do this work through donations and fund raising. Since we started in July, Captain Care has helped owners bail out 24 dogs and 1 cat from Carson, and has helped many low-income owners with food and minor vet care. Thank you to everyone who has supported intervention.
Although we do not rescue pets, we help keep the shelter population down and pets safe by keeping them at home. Captain Care is an all-volunteer group that includes members from around the US and from many different professions. We focus on one high-kill shelter, Carson, to bring intervention opportunities to members of that community.