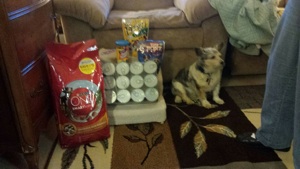 Harley gets his cupboard filled!
HARLEY GOT HIS TAX REFUND. DID YOU GET YOURS? On tax day, Harley scored!
Harley is a 17 yo who lives with his senior mom in assisted living. Mom has $116 a month in spending money. Harley is one of the first interventions done by Captain Care.
Mom needed help with food and vet care to keep Harley at home, out of the shelter. So every few months Harley sends us his wish list and he gets wet and dry food and his favorite treats! And this time he got a little set of steps so he can get up on the furniture and bed! One dog at a time we keep these beloved pets at home and safe, out of the shelter system. Sometimes it just takes a bit of caring to make a miracle like this happen.
Two seniors so happy together, and staying together 'til the end. Harley's goodies cost $75.35.
If you care to help support this one little dog with a contribution, our PayPal is captaincare@sonic.net . Your donations are tax deductible, and Captain Care is an all-volunteer group! And everything we are able to do depends on your donations!
Contribute and deliver a miracle to a pet in need