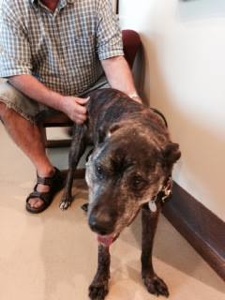 Klaus and Yogi can stay together.
NOT EVERY INTERVENTION HAS A HAPPY ENDING, BUT YOGI HAS HAD A WONDERFUL LIFE WITH HER DAD, KLAUS, AND WILL STAY WITH HIM UNTIL THE END.
Klaus is a homeless, disabled senior, and has raised Yogi from a pup. They have never been apart. At age 14, Yogi has slowed down and seemed to have a face tumor. Yogi and Klaus were taken to the vet this morning, and we are very sad to say that it looks like jaw cancer from the xray. We will know for sure Monday. For now, Yogi and Klaus are together, she has been given pain meds, and we are watching how she does. She shows no pain, wags, and is happy to meet new people. We got her a supply of canned senior food and several slices of roast beef as a treat. And we got Klaus a sandwich, which he immediately shared with his girl Yogi, stating that her whole life he has shared every meal he has ever had with her.
For now, we need contributions to cover the $353.11 vet bill (see below), $50 a month for the pain meds, and donations to cover the eventual euthanasia, which we will pay for too. Yogi is one of the lucky ones, not dumped in the shelter when she is sick and old, but allowed to live a dignified life with the person who has loved her all her life, and have a dignified end. Despite the devastating diagnosis, maybe she really is one of the lucky ones now if you look at it that way. PayPal is captaincare@sonic.net, for family and friends, for Yogi.